Spy Prompt: A Strange Craft Lands In London.
Writing Exercise 3
.

Copyright free Creative Writing Exercise by Antony R James.

Set in the spy world of Sean Tanner, Alex Farrington, Brandy Taylor and now featuring Rebecca Towley.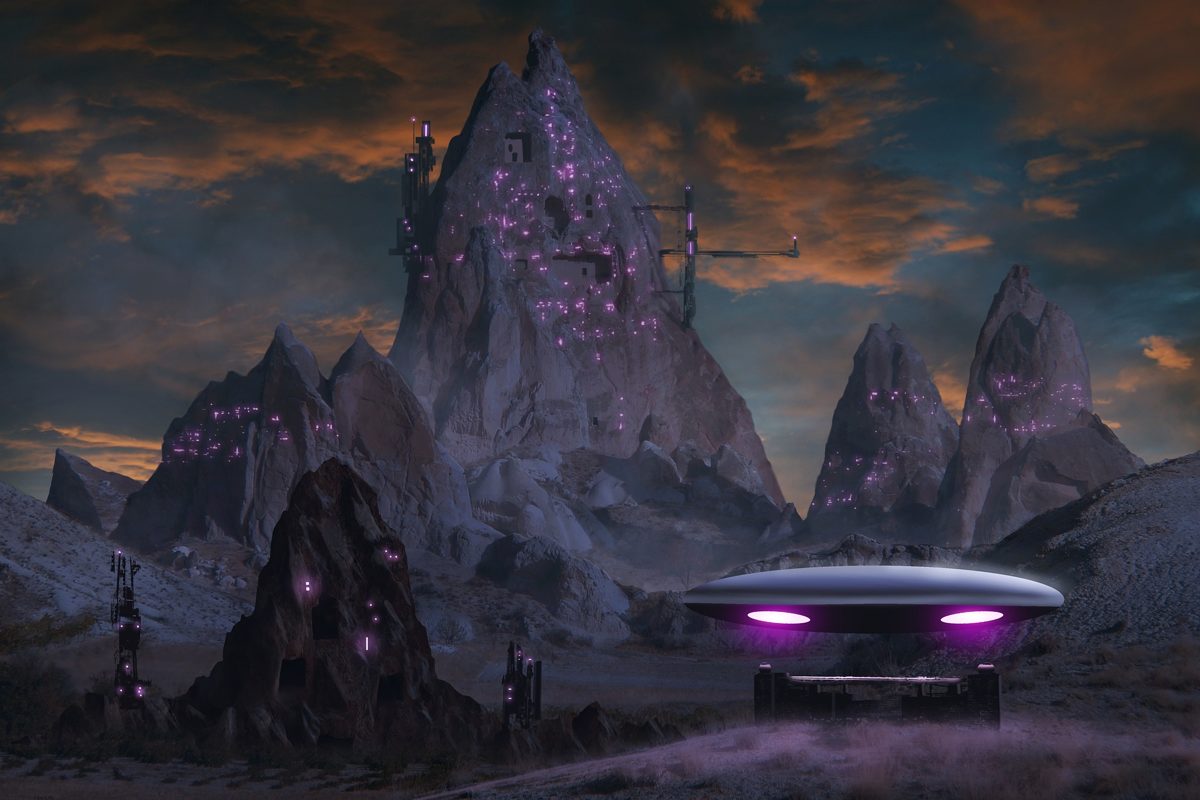 Image Credit: https://pixabay.com/photos/ufo-spaceship-alien-futuristic-5203805/
Sean Tanner and Rebecca Towley sat at a table for two in a small multi-cuisine restaurant. They had just ordered when Alex Farrington and Brandy Taylor entered the restaurant. Brandy waved to Sean and he beckoned them over.
---'Why don't you join us, I'll ask if we can move to a bigger table,' he said.
---Brandy grinned. 'Aren't you two having a romantic dinner?'

---'It's fine,' said Rebecca.
---A waiter came over and asked if everyone was together.
---After the move to a bigger table, the four friends settled down and ordered meals. Halfway through, everyone's phone began ringing at the same time. They quickly checked their messages and all of them were required to return to HQ2 immediately.
Their separate journeys back to HQ2 were enlivened by the sight of squadrons of helicopters and other flying transporters heading the same way as them.
---Back at HQ2 the two couples stood and stared as helicopters and transporters landed one by one in adjacent wastelands.
---'Something's going on,' said Alex, stating the obvious. 'Let's get inside and see what's happening.'
---They headed for HQ2 but were stopped at the entrance by new security men dressed all in black. The men asked to see their security tags before letting them in.
---Inside, Sarah Serking hurriedly ushered them into one of the small briefing rooms.
---'Thank you for getting here so quickly,' she said. 'We have a situation that's arisen in the last hour. A craft of very unusual and advanced design landed in wasteland not far from here. The Americans turned up straight away, hence the men in black at the door. The craft is under armed guard at the moment. The thing hasn't opened yet, so we don't know what we're dealing with.'
---'Is it from space?' Alex asked.
---'Sorry, I should have said. It was tracked by the Americans entering Earth's atmosphere earlier this evening.'
Notes:
The man who comes out of the spacecraft won't let medics examine him.
(That's because he's Human not of Alien origin. He and a group of top scientists left earth in 1939 just before the war after building a craft using a design stolen from Nikola Tesla. They found a habitable planet rich in resources and built a thriving colony. The now huge population is under threat of annihilation from a very large asteroid heading towards their planet.)
Continue the episode: The man wants to bargain new technology for sanctuary for his people but is trying to pass himself and his people off as Aliens. He left Earth at a time of mistrust just before the Second World War. He doubts the citizens of Earth will accept a large influx of people whose forefathers ran away instead of fighting for their countries.
No comments
Leave a reply