Try a fun writing exercise: Write a story from free-to-use photos.
A fun writing exercise is to pick two or more photos from a website like Pixabay (images can be used free for commercial or non-commercial projects, with or without attribution). I've included an example below:
Writing exercise example – I picked two images from Pixabay (they happened to be next to each other!), and from those two images, I wrote the following story.
Story/exercise.
My story begins four years ago when, during a terrible snowstorm, my plane lost power. I had two passengers to save, so I decided to crash land. I wasn't sure exactly where I was, but as I was taking my two scientist friends to a remote outpost in Antarctica, I was pretty sure I was about fifty miles short of our destination. Anyway, with the twin engines refusing to restart, I battled to keep my plane level. I instructed my passengers to brace themselves for the crash, but it turned out there wasn't much of an impact. The plane punched its way through a thin layer of melting ice and splashed down into a lake below.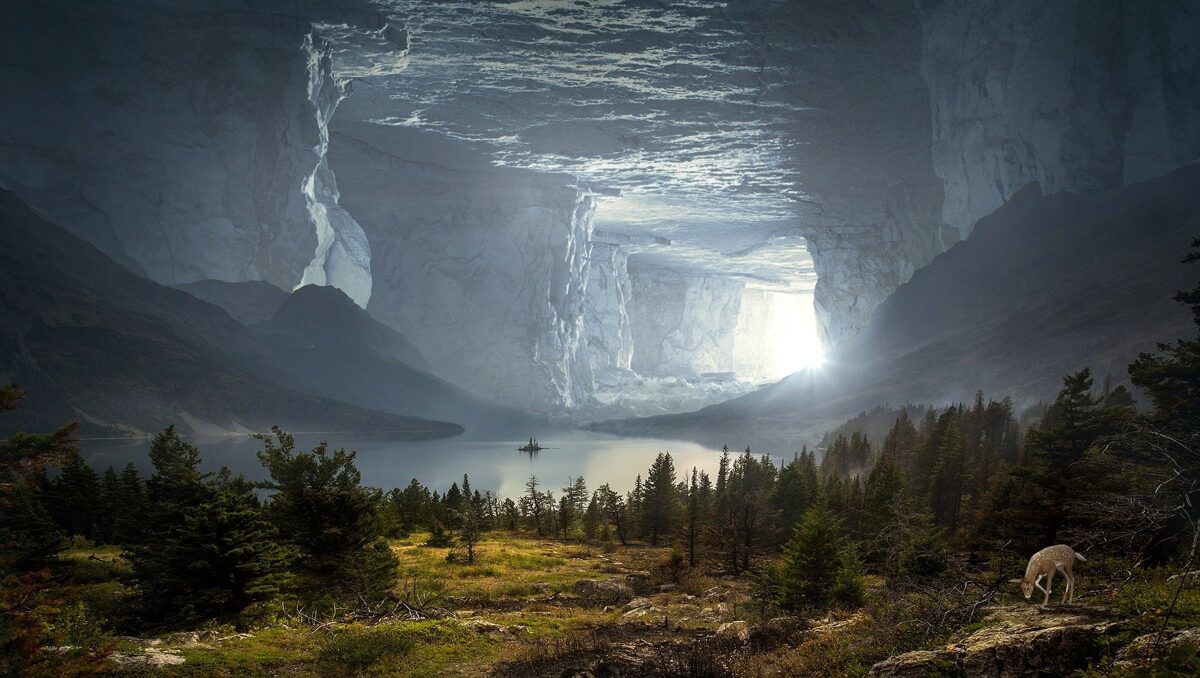 Image by Stefan Keller from Pixabay.
To my amazement, the three of us not only survived the crash but, we were unscathed. We exited the half-submerged plane and took in our surroundings. My small aeroplane had settled the right-way-up inside an ice cave entrance. I pulled out the emergency dinghy from the plane, and we clambered in and started to paddle with our hands towards the rocky shore. The astonishing thing was that deeper into the cave, where the roof had obviously collapsed, we could see grass and trees had started to grow. As we explored further, we realised that we had discovered a small unknown landmass; it stretched far into the distance, with high walls of stone and ice either side of us.
I should introduce you to my fellow travellers, the two scientists. Both of them are great friends of mine, and I had flown with them as passengers many times.
Robert Yendelson is one of the worlds leading experts in Geology. He was studying the emerging solid landmasses that were increasingly being exposed due to the rapid thawing happening in Antarctica.
David Colechester is an expert in Microbiology and had been studying the occurrences of green snow algae blooms in coastal snowfields.
Anyway, back to my story; we carried on exploring the shore when Robert called to us. He was looking at a very smooth area of rock that stood out from the random, jagged formations around it.
"Take a look at these!" he said excitedly.
I followed David and was surprised to see cave drawings next to the smooth stone.
"They're enough to give you nightmares, eh?" said Robert.
David and I took a good look and agreed they were. The drawings depicted humanoid figures with the heads of lizards. The figures were leading people out of a cave and into something that looked like a beam of light that came from a cloud. We looked at each other puzzled. I had a frost-proof digital camera in my backpack, which I used to photograph the drawings.
We set off again, moving further into what would have been a cave system in the past. The vegetation was getting thicker and more varied as we travelled. We also noticed the temperature was rising, possibly due to the abundance of plants. David took soil samples along the way and studied any unusual plants he noticed. We stopped a few times for a break; we had some water and food in our packs but were mindful of our predicament, we thought we would have to ration the remaining supplies in case we couldn't replenish our stock.
It wasn't long before I got the surprise of my life. I was admiring some white flowers growing on a bush when I came face to face with a beautiful young woman. She froze momentarily, then bolted. I told David and Robert, but they just laughed at me.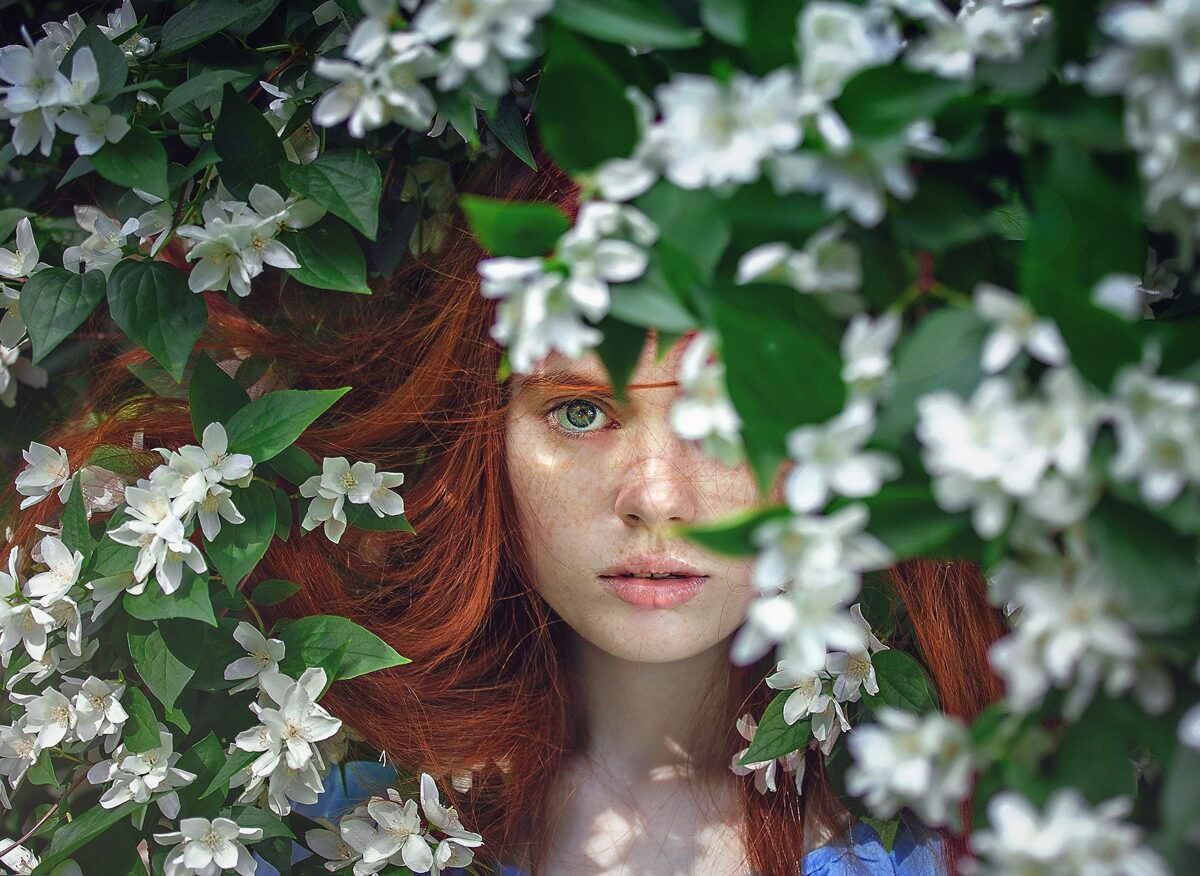 Image by Anastacia Cooper from Pixabay.
After about an hour and a half and what seemed like about five miles further on, we could see a settlement in a shallow bowl-shaped valley. Smoke rose from central openings in round huts which were scattered in vast numbers; I roughly counted about eighty. One larger hut I guessed was for communal meetings, worship or perhaps a school. It didn't take long for the menfolk to spot us. A group of athletic men ran up the sides of the valley and surrounded us. They had spears with flint heads. Some dogs wandered up and sniffed at our feet.
"Good day to you," I ventured.
The young men looked bemused. They began speaking to us in a strange language, unlike anything I've heard before. However, their intent was clear. They wanted us to walk down to the settlement below. As we were walking down, elders began gathering outside the large hut. They sized us up and down, and I think they considered us to be of no threat to them. They welcomed us, probably, we were something of a novelty; children gathered to examine our storm-suits and packs. It wasn't long before the whole village was passing our things around to each other to study. The elders showed the children our items one by one and seemed to be hazarding a guess as to what each item was used for. It was quite comical; it was obvious they had no idea what the items were, but I stifled a laugh. I didn't want to hurt their feelings, and I decided their status as elders mustn't be undermined.

Presently, I spotted the young lady I had seen earlier behind the bush with white flowers. I caught her eyes, and she blushed nearly as red as her hair. Later, when Robert, David and I were offered a meal, the young lady was one of the women serving food. She filled my wooden bowl with a stew and gave me two slices of dark brown bread. As she left our table, she flashed me the warmest smile I'd ever seen.
Over the weeks, I spent more and more time with the young lady with flame-red hair. Although we couldn't communicate very well, we fell deeply in love. I learnt to say her name – Livia. She learnt to say mine – Paul. As time went on, the elders seemed concerned about Livia spending time with me and did everything they could to try and keep us apart. Of course, they did not want to seem rude, so they would come up with plenty of tasks for Livia and me to do, but making sure we were as far away from each other as possible. Months passed, and Livia looked as concerned as the elders. She seemed to have lost all her radiance. She looked sad.
I managed to get her on her own when Robert, David and I were collecting water from a melt-water stream. She was washing clothes in a dammed off area. I went over to her, and she burst into tears. I knew she wouldn't understand me, so I hugged and comforted her as best I could.
She put her hand on my forehead, and I saw a moving image in my mind. The perfectly smooth rock face we saw close to the cave lake flashed into view. Suddenly the stone shimmered, and a craft began slowly moving through the rock and out near the shore. It was hovering slightly above the ground. A door opened, and three figures dropped down. They were dressed in grey suits, and my heart raced when they came into view; they each had a head like a lizard. They didn't look at all friendly, and as I thought it, Livia sobbed uncontrollably.
Have a go at finishing the story. I was going to take it further, but I think it stops at a good point, ready for you to carry on.
Now you've read my example, have a go yourself; look for free-to-use photos that inspire you to write. Pick a couple that will enable your short story to develop. It is a good exercise that will stretch you and improve your writing skills. You might have to do some research, as I did. Antarctica is frequently in the news and is a current issue. I used a little bit of artistic licence concerning the temperature of the area, and the light plane used by the charter pilot; when researching flights to Antarctica, I found it highly unlikely that this type of plane would be used. However, with the thawing happening so quickly, and if the story is set in the future, lighter aircraft might be in operation.
No comments
Leave a reply